About Me
Diana (but you can call me Dee)
born and raised in southern California - OC kid for life!
Vietnamese-Chinese-American ;D
junior @ University of California, Irvine (UCI) majoring in International Studies
I write for an Asian Entertainment blog called Hypnotic Asia
btw, favorite color is blue if you can't tell ;D
~not many guys fall under my eyes, but these two are different hehehe~
credit: Marisung @ Soshified
"You only live once - but if you work it right, once is enough."
~Joe Lewis

"Life can be found only in the present moment. The past is gone, the future is not yet here, and if we do not go back to ourselves in the present moment, we cannot be in touch with life."
~Thich Nhất Hạnh

... and for those of you who I make fun of because you're my "elder"... you know im just kidding =D...

"And in the end, it's not the years in your life that count. It's the life in your years."
~Abraham Lincoln
if you want to skype me for some unbeknownst reason... my skype username is
diana.n.truong
if you want to STALK me... do so on twitter...
CLICK HERE!
or if you're a
Facebook
person...
me2day
but dont really use it o_o
so today (February 1, 2010) I randomly decided to get a
formspring
or if you want to visit my personal
blog
awesome drawing by sneakiie dino~
fany is only 360 days older than me!!!~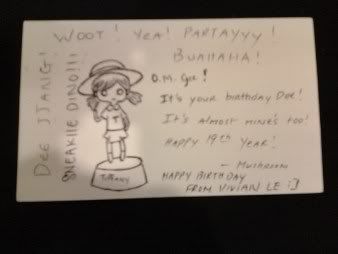 Community Stats
Group

4nia

Active Posts

0

Profile Views

346

Member Title

I'm a hot issue

Age

22 years old

Birthday

July 27, 1990

Gender

Female

Location

La Palma, CA, USA
Friends
d1ana hasn't added any friends yet.